Wine tasting
The Rigoli company organises tasting sessions every year for the wines produced on the estate just outside Suvereto. We've long been known for the welcome and hospitality we extend; we believe that disseminating awareness of wine culture is essential for the growth of the industry. Enthusiasts are increasingly eager to discover how and where wine is produced and how it should be tasted.
And what better occasion to try a wine tasting than at the estate that produces Suvereto and Val di Cornia wines. We offer three types of tasting session at the Rigoli estate: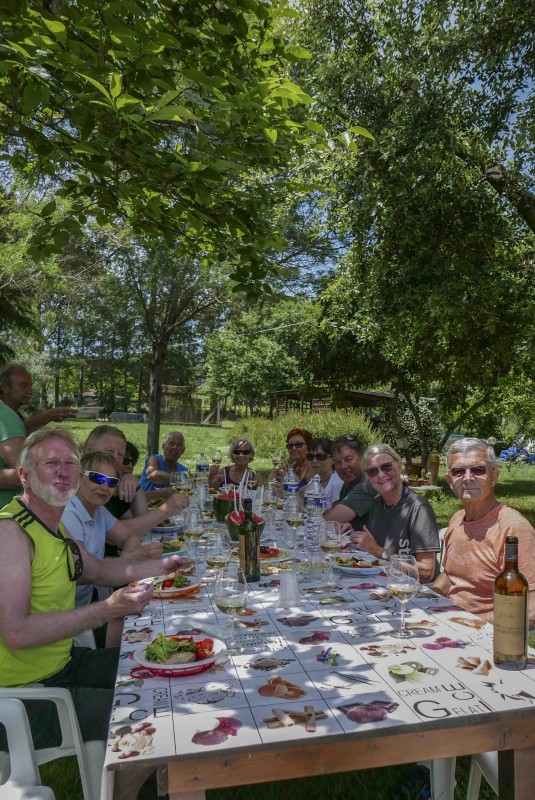 Basic tasting – this consists of straightforward wine tasting at the wine shop on the estate.
With this option you'll sample a few of the wines from the estate, selected by our personnel, free of charge; there's no need to book and it's available all year round.
Tasting with accompaniments – this consists of tasting several of the wines produced by the company, together with traditional meats and cheeses from the local area.
This type of tasting is held in the courtyard at the estate, where the producer will also explain the features of the estate, the production methods and the characteristics of the wine. As well as the wines you will also have the opportunity to taste the IGP olive oils that we produce on the estate. Tasting sessions of this type are held between March and October and require advance bookings for at least 2 people (at €15 per head).
Wine tour and tasting
The tour consists in a walking in a part of the vineyards of the estate, the visit of wine cellar and the Barriccaia (barrels room) at the end wine tasting.
The wine tour  are held between March and October and require advance bookings for at least 2 people (at €20 per head).
The estate is easy to find on the main 398 road between Venturina and Suvereto. If you're approaching from the motorway, leave at the Venturina exit and follow signs to Suvereto.
Opening hours are as follows:
Monday – Saturday 9.00 – 20.00; Sundays and public holidays 9.00 – 13.00
For bookings call:
Niccolò on 329 316 08 22 or Nelusco on 348 600 24 41
We look forward to seeing you!